During the Pandemic, many professionals had to switch from working at their offices to working at home. In many cases, their office computers would have all the necessary tools, softwares, and features to perform their day-to-day task. If you are working from home with large files or proprietary files like CAD, graphics design, etc. then getting that same level of efficiency from home computers may appear difficult.
Moreover, if you're a part of a team that needs access to one particular file at the office, then working from home may make It seem impossible to collaborate with team members on this file.
Nevertheless, rest assured, accessing your large work files from home is very achievable. Whether you are downloading a lot of data at once or working on your work pc from home, there are plenty of ways to ensure you have access to your files from anywhere.
In this article, we will discuss 3 ways to access your work files remotely.
Remote Desktop Protocol
Remote Access Softwares
Desktop Virtualization
1. Remote Desktop Protocol
Remote Desktop Protocol (RDP) is a Microsoft operating system feature that allows a user to connect to another computer over a network connection. This feature allows you to access a separate device from the one you are using, being able to make use of it as you were there in person.
The computer that you are remoting into becomes a window on your pc screen allowing you to access all of the programs and files stored on that computer. You can be at home or anywhere with internet connectivity and be able to access the computer you have been connected to.
To access the RDP you must use Microsoft operating system. The official software is the Remote Desktop Connection, which comes preinstalled on all Microsoft systems.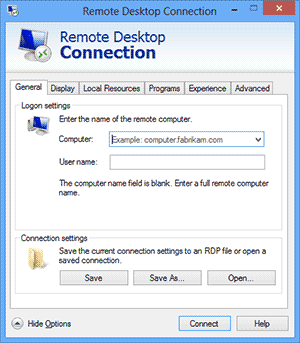 What are the pros of remote desktop protocol?
You can access your work pc without having to upload information to a cloud server.
You do not have to purchase any additional devices to enable this feature. Once the user has a licensed Microsoft computer with windows pro or higher then the tool can be used.
You do not have to be dependent on external drives. If you forget your drive then you can still perform the task.
What are the cons of remote desktop protocol?
Being a proprietary software, it works best on Microsoft operating systems, maximizing the full features. For instance, you can RDP from Mac to windows computers but not windows computer to Mac.
The connected pc must remain running at all times. Therefore, in the case of working from home, your office pc must remain on so that you can connect to it. This may pose a problem if a company has to shut down its office completely. In that case, RDP will not be helpful.
You need a working and reliable network connection to achieve a successful link. Without it, the entire session may end up unresponsive.
RDP only works from Windows Pro computers and up. This feature is unavailable with Windows Home computers.
RDP also has many security issues, according to ESET (a major internet security company), in recent year there has been an increased number of incidents where attackers connected remotely to Windows Servers using RDP and perform malicious actions. **We recommend talking to your IT technician to ensure your RDP connection is secured, as it's not by default
The Remote Desktop Protocol is a safe and free method to access your large files from your home environment.
2. Remote Access Softwares
Remote access software allows one pc to control or view another pc from anywhere with internet connectivity. Much like Microsoft Remote Desktop software, these applications allow you to access other PCs as if you were behind the screen physically. However, unlike Microsoft, these applications can work on either Windows or macOS so one can easily access files between any machines. The remote access softwares generally provide these basic features.
What are the basic feature of remote access softwares?
Remote access capabilities to other PCs that have the server installed.
Shared clipboard features, transfer text or images on machines once copied to the clipboard.
Offering to simply view the other machine or have full control.
A text-based chat feature.
File-transfer by a file manager interface.
Setting up remote access software generally takes a few minutes with each software offering a specific feature that makes it stand out from the other. Here are a few remote access apps and what they offer. You can get a comprehensive list of the best remote desktop softwares on G2's website.
These apps as well as many others are available for the accessing of files remotely. Offering cloud solutions and protected access.
What are the pros of remote access softwares?
It is helpful for things like collaborative work, technical support, and demonstrations.
They offer a full set of features for remote use as appose to simply sharing one's screen.
They offer security features built into their platform to protect against harmful attacks while remoting into other computers.
What are the cons of remote access softwares?
Some softwares can get quite costly depending on your usage.
Some softwares are unable to share huge files from one pc to the other.
There may be a considerable lag time when performing a certain task.
Some softwares work differently on different versions of windows or mac which may cause instability.
These softwares are less comprehensive than Virtual Desktops Infrastructures. As in the softwares simply replicate the desktop experience but don't allow you to use the other computer's resources.
3. Desktop Virtualization
Desktop Virtualization allows a user to simulate workstation load from a connected device remotely or locally. Simply one of the best methods on our list, virtualization a technology that separates the infrastructure of one device from the physical client device used to access it. There are two main types of desktop virtualization, which depend on if the operating system instance is local or remote.
What are the two main types of desktop virtualization?
Local Desktop Virtualization - This means the operating system is running on the client devices through hardware virtualization. The application uses the client's local system resources and is idle when users do not need a network connection.
Remote Desktop Virtualization - This type of virtualization operates in a client and server-computing environment. The operating systems and softwares run on a server inside a data center while clients interact with this server on their own devices i.e. laptops, smartphones, or thin client devices. This type of virtualization lends itself to services such as desktop as a service (DaaS). Where Virtual Machines are hosted on a cloud-based backend, delivering virtual desktops to end-users over the internet, licensed with a per-user subscription.
Remote desktop virtualizations allow an IT department to have better control over softwares and desktops using virtual machines. There are several benefits of Remote Desktop Virtualization.
What are the pros of remote desktop virtualization?
Access Remotely - Desktop virtualization allows the clients to be able to access their files through remote access from anywhere in the world. This access is not limited to laptops but any device, which can access the server. Instead of having to set-up desktops for new users, which would be very time-consuming on a one-to-one basis. IT admins simply deploy a ready-to-go virtual desktop on the user's device and the user simply logs in to that interface and has access as if they would locally.
Cost Saving - Instead of purchasing many high-end devices each year, with remote desktop virtualization, you have a secure and scalable infrastructure that can be expanded and customized to meet the changes in your environment. Believed would be less expensive than executing the desktop virtualization. However, it has been proven that refreshing PC annually can be overwhelming to the business. Upgrades can be done quicker with virtualization which eliminated the countless IT hours spent on upgrading or acquiring new devices.
Security - With virtualization, IT admins will have centralized security control to ensure the mitigation of potential threats. Keeping sensitive data safe and meeting a variety of compliance standards. All propriety data will be stored on the desktop image in the data center and not on the user's personal device. If an employee leaves the company then removing that user's access is a quick and simple process instead of having to uninstall everything from the user's device.
What are the cons of remote desktop virtualization?
Network Access Required – A remote desktop virtualization usually requires network access. So simply put, employees are unable to work unless they are connected to the internet or are having network connectivity issues.
Single Point of Failure – The Daas server or provider contains all of the system resources for whatever number of users required. If this server or provider goes down then everyone goes down or is compromised by that failure.
High Upfront Cost – Though having an amazing ROI in the Longterm. This solution does pose a high upfront cost if not managed properly. With having to consider the licenses, servers, centralized storage infrastructure, etc. This venture can be capital intensive.
Desktop virtualization is getting increasingly simple, with businesses reaping tremendous benefits from their uses. Workplaces are becoming more productive and as the work environment is constantly changing you need a robust infrastructure that is able to change/adapt to this environment. At ACT360 we offer virtualization services for when performance, ease of use, and ability to work quickly is the main goal. We work with you and bring you the best virtualization service possible.  
Conclusion
Accessing large files remotely is becoming increasingly necessary as businesses move into a work-from-home environment. Employees need to be able to access their data anytime, anywhere, and from almost any device. We discussed three ways to access those large files remotely.
Remote Desktop Protocol, which uses Microsoft remote desktop protocol to get access to other windows desktops.
Remote Access Softwares, which are applications that offer features like remotely accessing other PCs that have the server installed, share clipboard, offering to simply view the other machine or have full control of that machine.
Desktop Virtualization, which makes it possible to access an entirely different computer with optimal protection, enhanced features, and performance.