Microsoft Teams: How the New Communities Feature Can Benefit Your Business
Key Points From the Article:
Microsoft Teams has launched a new community feature that enables users to create and organize groups for meetings and events.
Communities in teams enable users to stay connected and share data such as photos, event invitations, videos, links, and other vital files.
The new communities feature can benefit your business by improving communication, empowering collaboration, and allowing for more flexibility in engaging with groups of customers and organizing work-related activities.
Microsoft has launched a new community feature to its free-of-charge Microsoft Teams communication, allowing users to plan, organize, and share data such as photos, event invitations, videos, links, and other important files. Its primary goal is to facilitate day-to-day work collaboration and enable businesses to create communities for staff or customers.
The new community feature will be a valuable communication tool for event planning groups, recreational sports teams, and business operations. It will allow users to communicate before, during, and after in-person events. Even though communities resemble the experience of consumer-facing sites like Facebook and Discord, Microsoft believes the new feature can be a productivity tool for your business.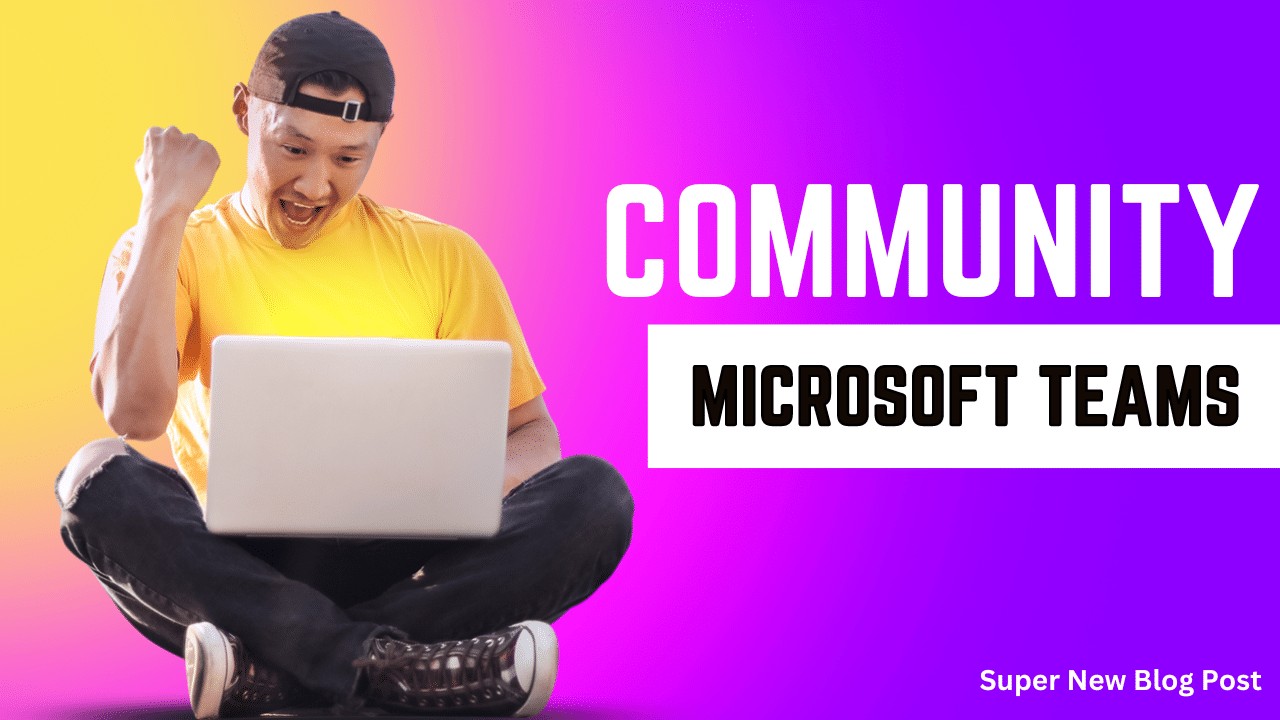 What You Need to Know About the New Communities Feature in Teams
In addition to the existing features in Microsoft Teams, such as messaging, calling, and sharing files and photos, the new communities feature allows you to build a space for community groups to unite, coordinate, and exchange ideas.
With the communities feature, you can invite others to your community and define guidelines for interacting with community members. This makes it easy to coordinate business meetings and even schedule work-related activities. Also, it allows you to add events to the community calendar for everyone to see and store files related to group activities.
Microsoft Teams communities provide an incredible community experience that could be beneficial for businesses looking to connect and engage with groups of customers.
How to Access Microsoft Teams Communities
The Microsoft Teams communities feature is available for all Android and iOS users. The new feature for the desktop will be available soon.
To access Microsoft Teams communities, you must first sign in to your personal account. If you use a school or work Teams account, you can access the feature if you switch to a personal account.
Download the free Microsoft Teams app for your mobile phone, open, then click on the Home page and select communities. A list of communities to which you belong will appear. Click the name to access that community's chats, calendars, files, events, and other relevant data. You shouldn't be concerned about privacy because Microsoft has ensured secure connections, which means that data from communities cannot be transferred to your employer.
Microsoft also offers the option of reporting content, assuring you that using Teams communities will not endanger your members or customers.
How to Get Started with Communities in Microsoft Teams
Getting started with Microsoft Teams communities is simple. All you have to do is select one of the eight options on the Home page. Alternatively, you can add branding items such as a group photo or a business logo for your community, then invite members via an email address, link, phone number, or QR code.
As the community owner, you can control settings, define community guidelines, and ensure community safety by adding and removing members and inappropriate posts. Communities are based on Microsoft 365 Groups, but with streamlined features. As noted earlier, the communities feature includes a calendar and chat channel to help you schedule activities and a file list.
When using the new communities feature in Teams, it is important to note that:
Communities automatically include any photos, links, or documents members attach to the chat conversations. But you can filter what the community sees using photos, files, and events buttons.
There is no option to filter the search to videos. It's one of the options Microsoft is working on for future updates.
When writing a chat message in Microsoft Teams, you may choose a file from your local device and add it as an attachment.
To share PDFs or images with your members, choose Teams as a share target from another app, followed by your community.
You can share Office files in templates or Excel spreadsheets with details for other community members to view and even make edits.
You can collaborate on files since any changes made by any community member are reflected in the file for everyone to see.
Why the New Communities Feature Is Important for Your Business
With remote work becoming the norm in today's business environment, the adoption of digital team collaboration solutions like Microsoft Teams is growing. As a result, the new communities feature is critical in building and supporting friendly working relationships. It allows employees and customers to interact in online shared spaces. More importantly, it benefits your business by facilitating the following:
Improved Communication
Microsoft Teams is certainly the way to go if your business wants to support remote workers. The new communities feature enables you to interact and engage with your staff and clients while they are on the go. With Teams communities, your organization can easily transition from customer calls to team events and anything in between. By forming a virtual community group of loyal customers, you can launch new products while increasing brand awareness.
Increased Collaboration
Microsoft Teams communities are a great way to empower and inspire teamwork in the workplace. It's a big comfort because it negates the need for internal communication via emails and memos. You simply need to post your message, and your community will receive it at their convenience. Furthermore, the ability to share images and edit files saves time and increases the efficiency of your staff.
More Flexibility and Interactive Meetings
Microsoft Teams allows for interactive meetings with customers or employees. Its communities feature enables you and your employees to feel more connected and engaged on the other side of the screen during a virtual meeting. Besides, the new feature gives much flexibility when planning a meeting with your team and selecting a time that accommodates all required participants.
The Bottom Line
Microsoft Teams is the right solution for businesses that want to improve communication, empower collaboration, and enhance flexibility. The introduction of the communities feature in Teams indicates that the American tech giant aims to boost participation and engagement while providing a vital productivity tool for businesses.