True story. No amount of physics can change the fact that SEO does not work in a vacuum ... as a stand-alone strategy. SEO is just one piece of a much larger digital marketing plan.
Think of it like this:
A flashlight is useless without batteries. And the batteries are useless unless they're in the flashlight. And even once you put the batteries inside the flashlight, you still need a hand to push the power button. And to point the light in the right direction.
Without all the necessary elements working cohesively together, you're left in the dark.
Worse, if left unattended, the batteries will eventually run out and the flashlight will die.
The same is true of SEO. It's needs outside help to make it work, and it requires constant recharging to maintain its power.
Again ... SEO does not work in a vacuum.
Sadly, this is where I see so many businesses fail in their marketing journey.
So What Exactly Is SEO?
Is it XML sitemaps and robots.txt files? Is it keywords, meta data and blog posts? Is it link building?
Yes, yes and yes. But a lot more goes into SEO than meets the eye. I've been using a 3-phased approach to SEO for more than a decade. Over the years, I've tested it and tweaked it, and I've watched it work time and time again for dozens of clients.
Today I'm sharing my best-kept secret.
3-Phased Approach to Successful (Long-lasting) SEO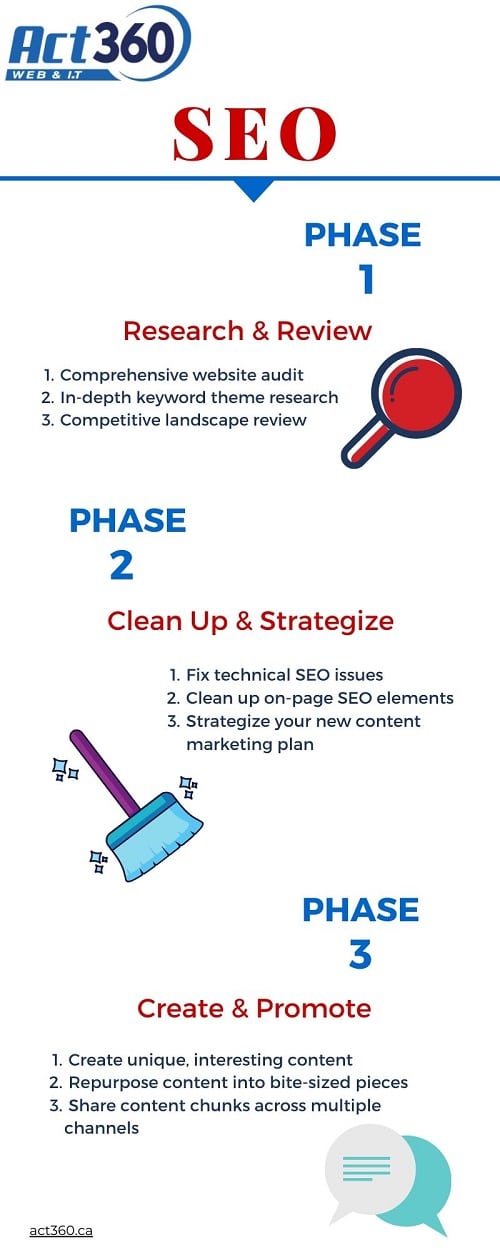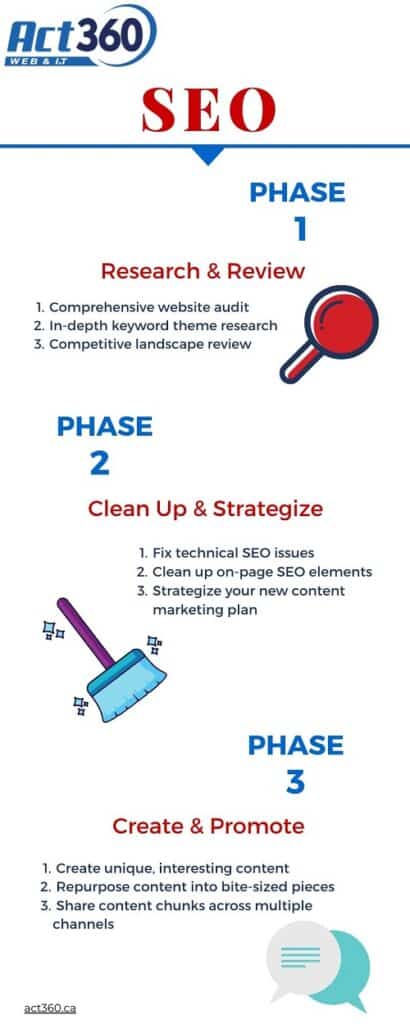 Phase I: Research & Review
Timeframe: 1 month
This is the phase where we learn about your business. We learn about your competitors. We learn about your industry, goals and audience. We learn everything there is to know about you. The only way we can help is if we understand where you are today and where you want to be tomorrow.
During the research phase, we will:
Perform a comprehensive website audit to uncover technical issues holding your sight back from positioning well in search engine results pages (SERPs). Things like 404 errors, broken links and page load speed. We look at schema markup, mobile friendliness and incoming links. And we look at on-page factors such as meta data, content and the over all user experience.
Perform keyword research – not so we can stuff your pages full of words we think Google wants to see, but to get inside the heads of your customers to understand how they're searching for products and services like yours. We look for trends in the market, and we look at user intent. We look at search volume and ranking difficulty (how competitive is a keyword phrase?). The we pull all the information together to map out keyword themes that match the goal of the web page with the user intent behind the keyword theme.
Review competitive landscape – we look at what's happening in your industry. Who are your main competitors? What are they doing right with their SEO, and where are their gaps? How are they marketing themselves in your space? And where are the opportunities to ethically kick 'em to the curb?
Phase II: Clean Up & Strategize
Timeframe: 2 months
Phase two typically takes about 45-60 days (unless you have an ecommerce site of 10,000+ pages, in which case we'd need to map out a long-term plan to coordinate Phase II in tandem with Phase III).
Now that we have all this juicy information about your business, your clients, your competition, you're your goals, we can begin clean-up.
We'll start to fix all those small technical issues and we'll clean up existing web pages, so they're properly optimized to deliver the best user experience, while satisfying Google's needs, too.
In this phase, we:
Map head and torso keyword themes to existing pages
Optimize on-page elements to incorporate keyword variations in power positions
Check internal and external linking
Rewrite and test calls to action
Review customer buy flow experience (ie: do forms work properly, is it easy for me to get the information I want, and did I naturally take the desired action?)
At the same time, our content team will begin strategizing new and interesting ways to drive targeted traffic to your site.
This where many businesses get tripped up. They think SEO is about technical behind-the-scenes stuff – just set it and forget it. Sure, that's part of it, but there's so much more … which brings us into Phase III.
Phase III: Create & Promote Content
Timeframe: 12+ months
This is the ongoing phase. It's the long game. To stay ahead of the competition and dominate the SERPs, you need to continually serve valuable content to your audience. That's the only way to build trust and keep them coming back for more.
Did you know ...
It takes at least 7 interactions to turn a prospect into a customer.
Why? You're asking people to part with their most prized possession – CASH. That takes time.
People buy from people they like. They buy from people they trust. And trust is not built in a day.
Like any other relationship, trust takes time to build. It needs to be nurtured ... slowly.
How do you build trust?
Be there with answers to their questions
Be there will helpful solutions to their problems
Be there with the content they need when they need it
Be there with a friendly smile and open arms
And do it all without asking for the sale
That's how you build trust and stay top of mind. When consumers are ready to open their wallets, you want them to think of you with confidence.
Here's how we do it: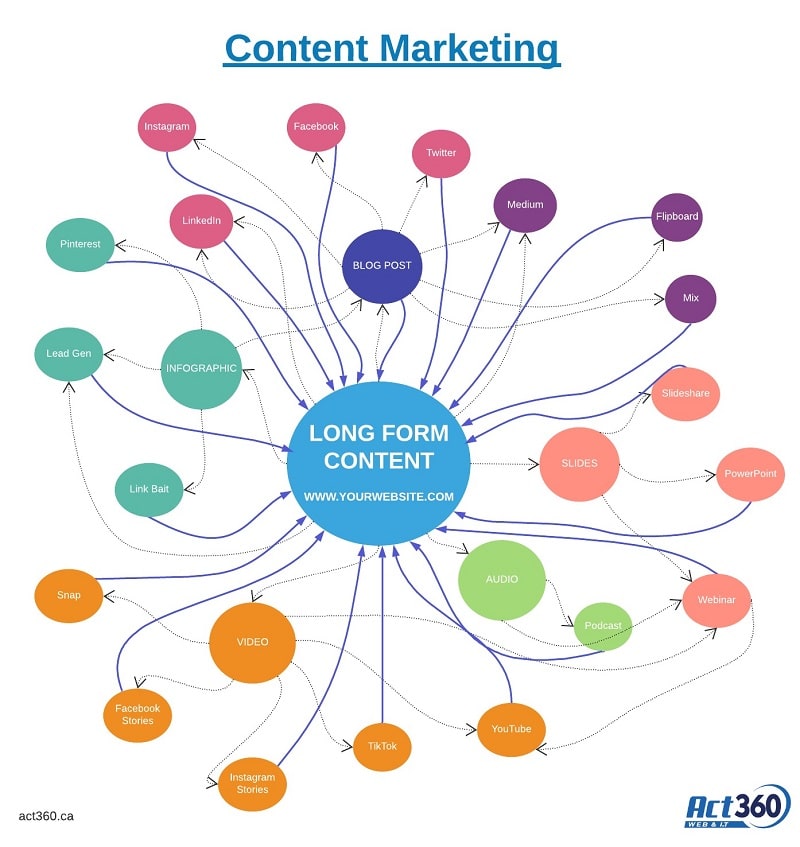 The Content Marketing Lifecycle
Start with a base piece -- maybe a how-to guide, case study or whitepaper.
Next, create PowerPoint slides to showcase the content
Design an infographic with visual representations of the content
Record a video discussing the topic
Transcribe the video into blog post
Promote the blog post on content curation sites
Break out the blog post into small bits of information to share on social media channels
Design "right-sized" images and memes for social media distribution
Transform the blog post into an email marketing offer
... you get the idea.
Content is the Lifeblood of Your Website
Just like your flashlight is useless without batteries, your website is useless without content.
SEO, blog posts, email, social media -- they are the nuts and bolts of a larger digital marketing machine. Each component relies on another to keep it running efficiently.
Once you learn how to repurpose one large piece of content into dozens of smaller pieces of content, you'll quickly realize that content marketing is not so overwhelming.
Still, you have a business to run, and content marketing may not be your forte. That's OK, well all have our own lanes. Focus on what you do best and leave the rest to the experts.
Let's see if our digital marketing pros can help you convert prospects into long-lasting customers.
Book your no-cost, no-obligation consult today. Don't worry, we won't ask you for any money – we just want to find out if we can help.
And if you found this post helpful, we'd be super grateful if you'd like and share it with others.
Here's the deal: people need products and services. Even during a pandemic. In some cases, especially during a pandemic.
And guess what? Search engine optimization (SEO) and search engine marketing (SEM) are still the best ways to reach customers.
As long as you're paying attention to user behaviour, that is.
The way your customers looked for you yesterday is different from how they're searching for you today. And it will be different again tomorrow.
According to Tony Wright of Search Engine Journal, "There will be business winners and losers in this new global normal. And many of the winners will invest heavily in search engine marketing."
What Happens to Website Visibility When You Stop SEO?
SEO is a marathon, not a sprint. When you call a halt to your SEO efforts, search visibility drops, and it's difficult to recover.
When you stop optimizing your website for search, you run the risk of:
Losing rankings for target keywords
Losing organic traffic from those keywords
Losing valuable domain authority
Decreasing the chance to score quality back links
Losing visibility for "near me" searches (to your Google My Business listings)
Slowly losing your audience as your website goes dormant
Falling behind your competitors who have continued (and even stepped-up) their SEO game
SEO is like a muscle: easier to maintain than to gain.
When you have solid rankings and visibility in organic search, we strongly recommend doing what you can to, at the very least, maintain it. Once the SEO ball starts rolling downhill, it's very hard to stop the momentum.
Survival of the Fittest Marketing Strategy
Darwin's adaptation theory (aka: survival theory) is an organism's ability to adapt to changes in its environment and adjust accordingly over time.
Businesses that adapt their search marketing efforts today will be primed to lead tomorrow … when things normalize. And things will normalize.
Here are some ways ACT360 is helping to keep you on track during these difficult times:
Scale back if you must, but don't STOP. We'd hate to see you undo all the hard you've put in up to this point. Ask us about payment options and potential discounts. We're committed to helping you through these tough times.
Let us review some of your other marketing efforts (free of charge). A second set of eyes may be all it takes to uncover creative, new ways to save and/or reallocate money.
Don't hesitate to ask questions and share ideas. We're working closely with our clients to customize marketing strategies on the fly, so let's keep the lines of communication open.
SEO is a Long Game
It is SO important that businesses stay the course right now. The fact is some companies won't be the threat they once were before the pandemic. They'll make mistakes, they'll mismanage money and resources.
Some of them will fall by the wayside, giving your business the opportunity to climb to the top. Believe it or not, this crisis is levelling the playing field, giving small- and medium-sized businesses the chance to rise.
The key is to take a moment to evaluate your current marketing strategy and adjust to ensure you're keeping in line with your customers' needs. Deliver what they need, when and where they need it, and you'll come through these challenging times just fine.
Ready to reevaluate your marketing strategy? We may be practicing social distancing, but we're here for you. Talk to us today.
It's been a year like no other in history. The world came to a screaching halt as a deadly virus spread city to city, country to country at an alarming rate. A global pandemic changed the world we once knew. It shut down entire school systems. Businesses were mandated to close. Millions of jobs were lost as social distancing forced us into isolation.
But we are nothing if not resilient.
As we locked our front doors and sought refuge in the security of our own homes, we did what we could to remain connected – we turned to the Internet.
Retail e-commerce sales reach all-time highs
As storefront retail sales plummeted, e-commerce retail sales nearly doubled from February to May.
According to a Stats Canada survey:
E-commerce saw a 63.8% monthly increase in April while in-store sales dropped 25.3%
The COVID-19 impact peaked in April. Retail e-commerce sales spiked from 3.8% in April 2019 to a record high of 11.4% in April 2020
Shopify reported a 62% increase in new stores created from March 13, 2020 to April 24, 2020, compared with the previous six weeks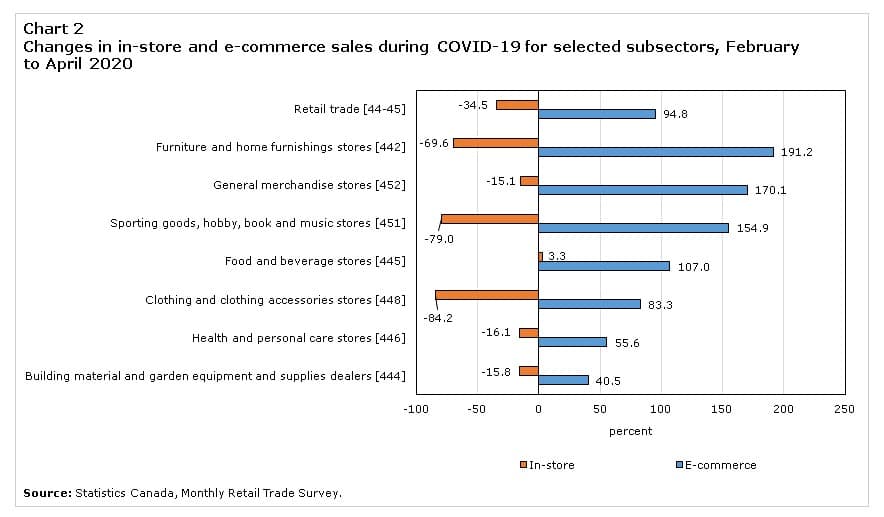 As the retail landscape continues to evolve, we'll see a growing influx of mobile web users.
Is your website mobile ready? Google has a free mobile-friendly test you can use to check it out.
Did you know …
Google eliminates your site from mobile SERPs if it is not mobile friendly
71% of mobile searchers expect mobile site pages to load as fast or faster than desktop (Hubspot)
Google reports that 40% of mobile consumers turned to a competitor's website after an unsatisfactory mobile experience
Two out of three shoppers prefer accessing a mobile website over a mobile application (Kissmetrics)
One third of all e-commerce purchases were made on a smartphone during the holiday shopping season (Techcrunch)
How prepared is your business for this new norm? If you're just starting out with mobile SEO, don't sweat it, you're not alone. Use the following checklist to quickly get on board the mobile-friendly train.
But first, some basics.
What is Mobile SEO?
Just like traditional Search Engine Optimization (SEO), Mobile SEO is the process of a) making your website user-friendly (working properly and looking great) on mobile devices, and b) optimizing your site so it shows up in mobile SERPs for relevant keyword queries.
According to Google's Webmaster Central Blog, "By March 2021, all sites should be indexed mobile-first," which means that, for the first time ever, Google will use the quality of the mobile version of your site to determine rankings – not the desktop version.
Google has already started making the switch to mobile-first indexing, so you don't want to wait.
5 ways to ensure your website is mobile-ready
Responsive Design
A responsive site automatically changes its appearance to fit any screen size on any device. Building a flexible layout is fairly quick and simple from a development standpoint, but there are other options available.
It requires a little extra dev time, but some SMBs choose to use dynamic serving, which allows for a unique user experience for each device. Others choose to build an entire mobile app, which adds another layer of functionality that just isn't possible on a mobile-friendly website.
We're not opposed to building mobile apps—in fact, we think it's a great way to build your brand. However, we do recommend building a responsive website to go along with the app … especially with Google's mobile-first ranking quickly approaching.
Structured Data
These tiny bits of code help Google understand the content on your site. The easier it is for Google to understand what your website is about, the easier it is for them to rank your site properly for relevant user queries (aka: keywords).
According to Google's Webmaster Central Blog, if you use structured data on the desktop versions of your site, you should use the same structured data on your mobile site.
"This is important because with mobile-first indexing, we'll only use the mobile version of your page for indexing, and will otherwise miss the structured data."
Page Speed
Everyone is in a hurry. A slow-loading site is a poor-ranking site in Google SERPs. Worse, if your site doesn't load quickly, users will move on to another site. Likely your competitor.
To improve page load speed, reduce file size with GZIP, optimize CSS and minimize the number of redirects. If you're unsure about your page load speed, use Google's free Pagespeed Insights.
Neil Patel also has an in-depth article about how to get your page load score to 100%.
No Flash
Most mobile devices don't support Flash. That's because it eats up batter power, it doesn't work on Apple devices, and many users block Flash websites because of significant security concerns.

Instead, opt for JavaScript, CSS and simple image files.
User Experience
We saved the best for last. Providing a stellar user experience (UX) is critical when it comes to how your site will rank in the SERPs.
Think about how people are using mobile devices – thumbs clicking on small screens. It's far more difficult to navigate a touch screen mobile device than it is to use a mouse on a full-sized screen.
Use large buttons and lots of white space for easy navigation. Use larger font sizes (14px for mobile; 11 points for iOS) for simple readability. Here's a helpful article from Google: What Makes a Good Mobile Site.
Need help putting these 5 tips into practice? Talk to us—we'll make sure your website is mobile friendly and ready to rock well in advance of Google's March 2021 mobile-first deadline.