Before you write one line of code, before you design one layer of design, and before you write one word of copy, there is a much larger question you need to answer:
Which Content Management System (CMS) should I use to build my website?
As with everything in life, there are pros and cons to each option. Here, we'll give you the straight up truth about the top four most common CMSs:




After reviewing all the considerations below (listed in no particular order), it's ultimately up to you to decide which CMS is best for your needs. We hope this helps make that decision a little easier.
Drupal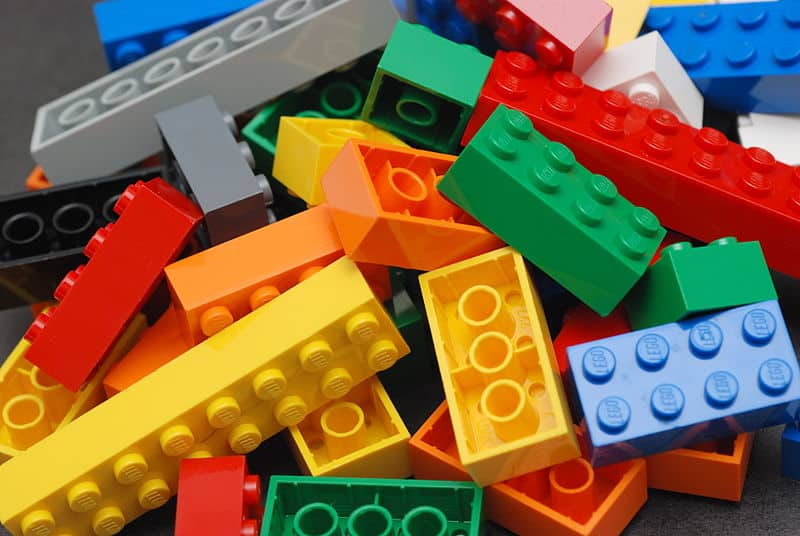 Summary
Just as Lego pieces fit together perfectly, allowing you to build anything your mind can imagine, Drupal modules (aka plugins) and code act as the building blocks of an editable website.
Everything fits together. Everything plays well together.
The back end of Drupal isn't much to look at, and there aren't many pre-made kits. Drupal is for the builder who wants full creative and functional control of their masterpiece.
Shopify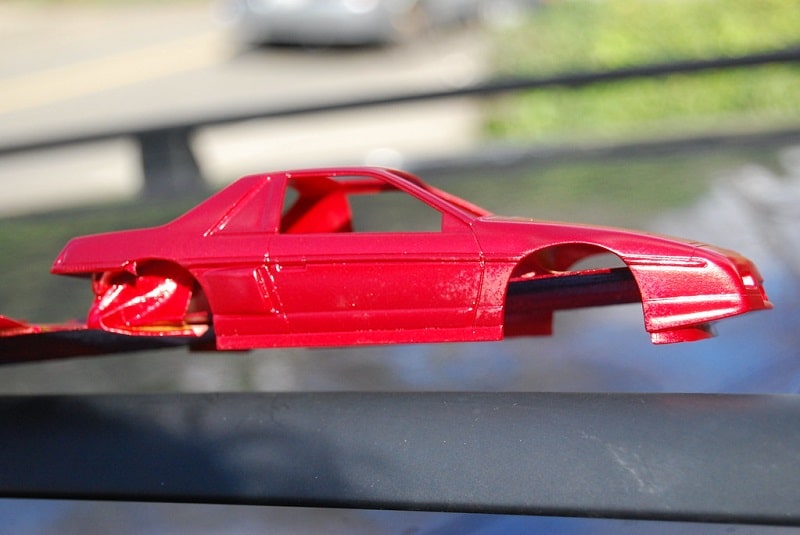 Summary
Oh Shopify … I don't want to paint my car, I want to pimp my ride!
With Shopify, you can change the design, the fields and the output of pages, but you can't change the logic. It's baked in.
There are some functionality plugins that seem cool on the surface, but they're hosted elsewhere. That means they push code to your site, which can cause major security breaches and performance issues.
WordPress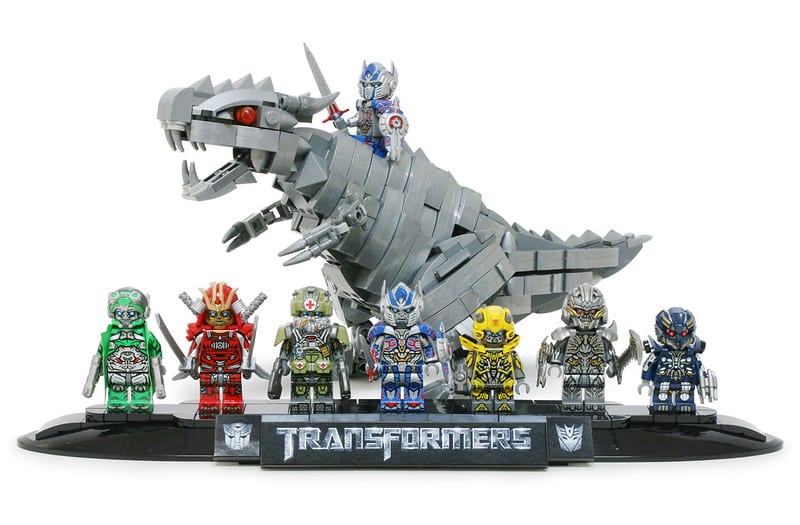 Summary
Most CMSs are packaged into one comprehensive solution. If you find a solution that works for you, it will save you a ton of time.
However, if you want to alter the solution even slightly, it can become difficult to manage. WordPress is no exception. It's a strong platform for content-heavy sites like blogs or news feeds and the GUI (graphical user interface) is simple and clean.
Beware of the plugins—unless specifically made to do so, they typically don't play well together. Plugins are frequently to blame when WordPress sites break.
Magento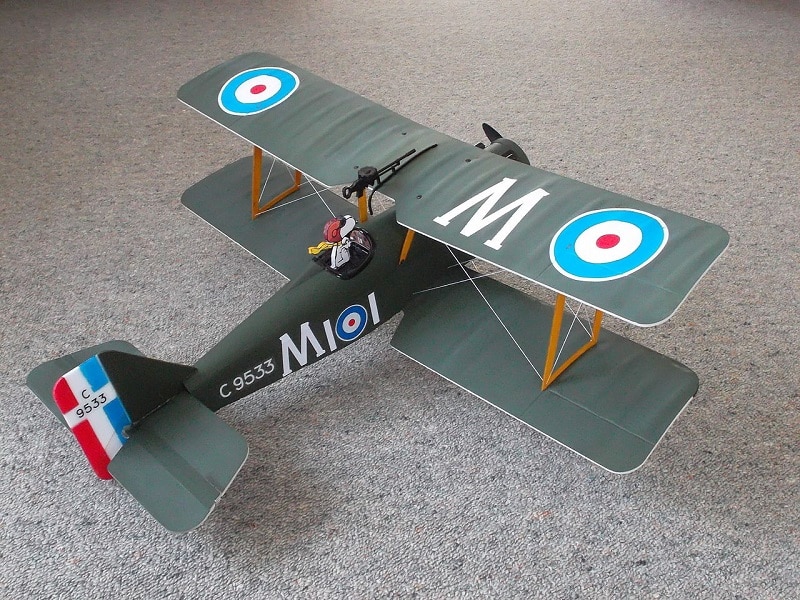 Summary
We liken Magento to a model airplane because once it's built, it super cool. That said, it can also be complex to build and difficult to change once put together.
Magento was created for send user wanting to build and maintain their own websites. It has a strong backend for eCommerce—it can handle a massive inventory of products.
On the downside, it doesn't have a lot of plugins, and is not ideal for content-heavy sites.
Need help deciding which CMS is best for your needs? Give us a call, we can help.
In the olden days, outbound marketing was called "marketing." Remember KFC's "Finger lickin' good" and Rice Krispies' "Snap, crackle, pop"? The emergence of the Information Age has created a whole new class of marketing called inbound marketing.
Naturally, this has caused a heated debate in the marketing world – outbound vs. inbound marketing: which is better?
Rather than adopting an either/or approach, it's time to flip the script on how we approach the answer to this question. You don't necessarily have to choose between outbound or inbound marketing to hit your KPIs (key performance indicators).
Instead, consider the advantages and disadvantages of both then measure against your marketing goals to uncover the strategy that best suits your needs. There are ways you can effectively blend inbound and outbound marketing to reap the benefits of each.
But before we jump into the pros and cons, let's start by getting clear on the definition of each marketing strategy.
What Is Outbound Marketing?
Outbound marketing delivers a message to your customer rather than your customer seeking out your message. Outbound marketing aims to reach a larger volume of less-targeted people.
Marketing messages are delivered across multiple channels in hopes that the right message reaches the right person. This has given outbound marketing a bad reputation as a 'spray-and-pray' approach. But before the internet, outbound was the best (and only) way to ensure that customers found your brand instead of your competitor's.
Seth Godin refers to outbound marketing as "interruption marketing" in his book, Permission Marketing: Turning Strangers into Friends and Friends into Customers, because it involves getting your marketing message to the most people possible using aggressive techniques that interrupt their daily lives.
Everyone has been exposed to TV commercial jingles you can't get out of your head, flyers stuffed in your mailbox and unsolicited phone calls during dinner.
Common outbound marketing examples include:
Radio
TV commercials
Newspapers
Magazine ads
Brochures
Direct mail
Cold calling
Telemarketing
Billboards
Event sponsorships
The traditional outbound strategy can even be found in modern-day digital forms such as email blasts, banner and display ads, PPC (Pay Per Click), and SPAM (we're not condoning the use of this one!). Each of these pushes a message "outward" to people rather than attracting them "inward" to it.
What is Inbound Marketing?
Inbound marketing doesn't feel like marketing because it's not pushing a "hard sell." With inbound marketing, you provide valuable content like white papers, infographics and blog posts, all of which are designed to educate and attract your ideal customer.
Inbound marketing also requires you to know your customers at a deep enough level to create content that will engage them--even when they are just beginning to understand their problems and needs.
Seth Godin refers to inbound marketing as "permission marketing" because it's intended to reach customers who actually want to hear from you rather than sending your marketing messages to people who didn't ask to hear from you.
Common inbound marketing examples include:
Blogging
Social media marketing
Email marketing
Whitepapers
eBooks
Lead magnets
Organic Search Engine Optimization (SEO)
Videos
Webinars
Inbound marketing is an approach adapted to the modern consumer who does 70% of their own research on a product before reaching out to the company to make a purchase.
Now that we've clarified the definitions of inbound and outbound marketing, let's dive into the pros and cons of each.
The Pros & Cons of Outbound Marketing
As we mentioned earlier, outbound marketing has a bit of a spray and pray approach.
Pro: You have an opportunity to put your brand in front of a large audience.
Pro: With some cold hard cash you can be seen by millions, which could bring in new customers quickly.
Con: Outbound marketing can be expensive.
Con: Smaller businesses with tighter budgets may find it difficult to gain traction with outbound marketing.
If you have the budget, there are several pros to outbound marketing:
Targeting people who get their information from traditional sources like TV, print and radio. For example, if you're targeting people who watch a lot of afternoon television, then it's a great idea to run ads during the most popular programs in that time slot.
Targeting people who aren't tech savvy. Many industries like the financial investment sector that have a large older audience can still benefit from outbound marketing.
Targeting people who are in a hurry. Folks that don't have a lot of time to do research rely on brands they've been exposed to through traditional advertising when making a purchase.
Outbound also offers some great opportunities if you're into multi-channel marketing. Outbound marketing can be integrated with your inbound campaign to provide your customers a seamless and consistent brand experience across all platforms whether IRL or online.
For example, the event marketing industry has combined in-person sponsored events, like conferences, with social media marketing to give attendees a 360 degree brand experience.
Check-in and networking apps, and social media photo booths are some ways they're integrating the offline with the online.
A Forrester study found that 75% of consumers expect consistent experiences across mobile, social and in-person.
While analytics can teach you about your audience, some believe nothing replaces personal interaction and communication.
Cons: the darker side of outbound marketing:
Expensive. Print or radio ads can be costly. You can spend thousands of dollars on a TV ad, send it out into the world, and then just hope for the best. It's like turning on a faucet … when you turn it off, the leads dry up.
Not targeted. ROI and KPIs are not always easy to track. How do you know if someone has contacted you because they heard your radio ad or saw your TV ad? Without a corresponding phone number or web URL, it can be difficult to track where leads are coming from.
Often ignored. As our lives are increasingly conducted online, the number of ads we're exposed to has become overwhelming, with some studies suggesting the average person sees as many as 4,000 ads a day. This has caused ad blindness among consumers, with an ever larger number purposely ignoring and blocking ads.
Intrusive. Launching an aggressive cold-calling campaign might get some sales upfront, but it may negatively affect your brand's long-term reputation. In fact, entire businesses have been built on the premise that consumers can choose an ad-free experience. For example, part of Netflix's attractiveness over TV is that its programs aren't chock full of advertisements.
Today's consumers are more digitally empowered than ever before. They prefer to seek out information about products and services they're interested in, rather than having the information pushed upon them.
For many marketers, this means the solution is simple: stop showing customers messages they don't ask to see. Embrace inbound marketing.
The Pros and Cons of Inbound Marketing
One of the biggest strengths of inbound marketing is that it focuses on providing value to your prospects. Unlike outbound marketing, inbound marketing is not "selling" in the traditional sense.
By providing valuable and educational content like white papers, infographics and blog posts you attract your ideal customer to you. No pushy salespeople or irrelevant ads required.
The main pros of inbound marketing are:
Affordable. It levels the playing field. Smaller businesses can now compete with larger competitors by employing a strong inbound marketing strategy that does not require thousands of dollars to initiate. Even enterprise companies, like Casio, have used inbound marketing tools from Hubspot to reduce marketing costs and drive more qualified leads than simply relying on traditional outbound marketing. According to Hubspot, "Inbound marketing efforts are 62% less expensive than outbound."
Easy to track. With inbound marketing, information and results are effortlessly recorded. You can see the entire customer journey, from a visitor landing on your site to their purchase.
Targeted. Because inbound is easy to track, you can easily discern which campaigns are working well and which ones need adjusting. Once the changes are made, you can use analytics to explore the impact of your changes on conversions and use the data to improve your site further -- all thanks to AB testing.
In line with the buyer's journey. Inbound marketing builds relationships between your prospects and your brand. Better still, inbound attracts prospects throughout various phases of the buying cycle, so you're meeting them at the right time in the right place with the right message.
Despite all the pros, there are some inbound marketing cons:
It requires constant attention. Inbound marketing isn't a one-time solution. It's a holistic strategy that works to seamlessly connect your brand's digital presence. Sometimes marketers can put too much faith in the idea that "if you build it, they will come."
It requires a diverse skill set. If you do it yourself, you'll need to know about copywriting, web technology, aesthetics, SEO and SMM. That's why a lot of companies outsource their inbound marketing efforts to a reputable firm. Wink, wink, nudge, nudge.
Remember, if your content isn't nurturing buyers at all stages of the buy flow, you could be driving them away.
Our best advice? Experiment, measure, pivot.
Both outbound and inbound marketing have their pros and cons. But rather than having to choose between them, you might find you're better off striking a balance between the two.
How Inbound Marketing Complements Outbound Marketing
In general, inbound marketing is far more cost-effective and delivers a superior ROI compared to outbound marketing. But ultimately, we've found that the best marketing strategy for your business will be the one that works.
A blend of inbound and outbound tends to deliver the best results. Hybrid tactics are becoming the cornerstone of marketing. But don't panic. We're not suggesting you have to completely rethink your entire marketing strategy.
At ACT360, we use outbound marketing strategies to boost inbound marketing efforts for our clients.
If you'd like to learn more about how we can help you combine inbound and outbound marketing, or if you're just curious to hear a second opinion, give us a buzz to claim your free consultation.
When it comes to surviving a pandemic, your business will need to rely more heavily on digital marketing strategies. The sudden disappearance of live events and conferences, and storefront closures is pushing businesses toward online communications now more than ever.
You're not alone, businesses in major industries are feeling the affects of Coronavirus. These are just a handful of the many industries showing traffic declines:
Advertising
Travel
Manufacturing
Construction
Real Estate
On the flip side, several industries are actually seeing significant increases in traffic:
News & Media
Energy
Food
Pharma
Healthcare
No matter which side of the fence you're on, keeping in touch with your customers is critical during these uncertain times.
So today we want to give you a ton of resources you can use to not only survive, but thrive over the next 3, 6, 12 months and beyond.
Bookmark this post so you can come back to it anytime you need a new digital marketing idea. Now, let's get started …
First up, we'll take a look at how you can be there for your customers when you're being forced to remain socially distant.
Digital Communication Tools
Zoom Video Communications jumped 11% in Thursday trading after the company announced it surpassed 300 million daily users on its platform.
On April 1, Zoom announced it had exceeded 200 million daily users. That's an increase of 100 million daily users in just three weeks.
The company had only 10 million daily users in December 2019, meaning the coronavirus pandemic has led to a 2,900% increase in daily users as people across the globe stay at home and socialize via the popular video conference app.
Even at its 2020 low, Instagram's average engagement rate per post is 20x Twitter and Facebook's lowest engagement rates of the year.
Brands have been posting most steadily on Facebook throughout coronavirus, while decreasing posting on Twitter and Instagram.
Jay Baer, from Convince and Convert, says now is a really good time to experiment with posting frequency, type, and timing.
Do you spend far too much time agonizing over how your chat messages might sound to the person on the receiving end? Here are some instant chatting tips for using Slack, Skype, WhatsApp, or any other type of instant chat software.
Security Warning: Instant communication platforms are prime targets for cybercriminals during Covid-19 pandemic. Get the full story here.
Next, we'll talk about how to deliver the best possible experience to prospects and customers alike …
How To Improve User Experience & Increase Conversions
People around the world are turning to their mobile devices more than ever before. They're shopping online, they're talking online, they're watching TV and listening to music online. They're asking questions, ordering take out and searching for business solutions online.
Everything is happening online.
Is your business delivering the best possible user experience to your customers? Let's take a deeper dive into some of the things you can do to improve online user experience.
10 Ways to Improve eCom Conversions
Upload great product photos and videos
Write detailed product descriptions
Offer free shipping and returns
Give discount codes
Let shoppers review products
Streamline the checkout process
Personalize the shopping experience
Add a live chat option
Send abandoned cart emails
Leverage retargeting ads
6 Strategies for Ecommerce Retailers to Maximize Success Amid the Covid-19 Pandemic
Adjust Branding & Creative Messaging
Find Hidden Opportunities
Highlight What Matters Most
Stay Engaged with High-value Customers
Capture & Nurture the Top of Funnel
Leverage Your Data for Granular Insights
4 Checkout Conversion Killers That Drive Your Buyers Away
Low-key Shopping Cart Button
Slow / Non-dynamic Shopping Cart
Disruptive Registration
Shipping Costs
It's YOUR Time to Shine
Experts have said that the economy is already in a recession. But that doesn't mean there isn't plenty to be grateful for … especially for SMBs.
"Be fearful when others are greed and be greedy when others are fearful."
~ Warren Buffet
Now is the time for small-business owners to capitalize. To rise above the noise and gain the attention that was once held exclusively for the corporate giants.
Now is the time to focus your attention on marketing not for today, but for tomorrow, and for the long haul.
Take advantage of this down time to focus on improving your business:
Revamp your website design
Write some new content to help inform and educate readers
Give SEO and social media some extra attention
And plan for the surge of customers when all this is over
Ready to position yourself for growth once we return to some sense of normalcy? Start now. Call us at 705-739-2281 for your free consult today.
True story. No amount of physics can change the fact that SEO does not work in a vacuum ... as a stand-alone strategy. SEO is just one piece of a much larger digital marketing plan.
Think of it like this:
A flashlight is useless without batteries. And the batteries are useless unless they're in the flashlight. And even once you put the batteries inside the flashlight, you still need a hand to push the power button. And to point the light in the right direction.
Without all the necessary elements working cohesively together, you're left in the dark.
Worse, if left unattended, the batteries will eventually run out and the flashlight will die.
The same is true of SEO. It's needs outside help to make it work, and it requires constant recharging to maintain its power.
Again ... SEO does not work in a vacuum.
Sadly, this is where I see so many businesses fail in their marketing journey.
So What Exactly Is SEO?
Is it XML sitemaps and robots.txt files? Is it keywords, meta data and blog posts? Is it link building?
Yes, yes and yes. But a lot more goes into SEO than meets the eye. I've been using a 3-phased approach to SEO for more than a decade. Over the years, I've tested it and tweaked it, and I've watched it work time and time again for dozens of clients.
Today I'm sharing my best-kept secret.
3-Phased Approach to Successful (Long-lasting) SEO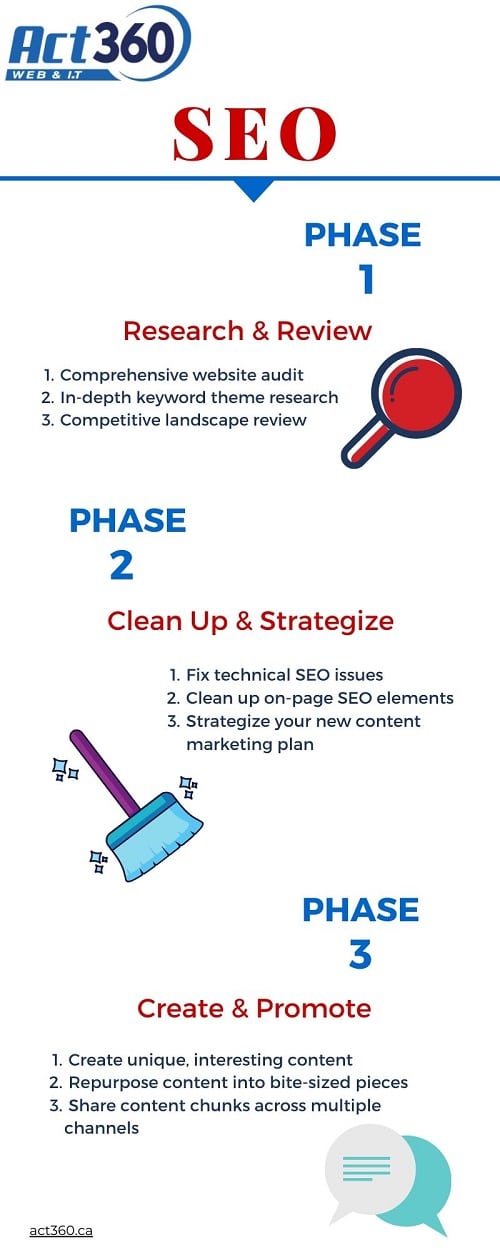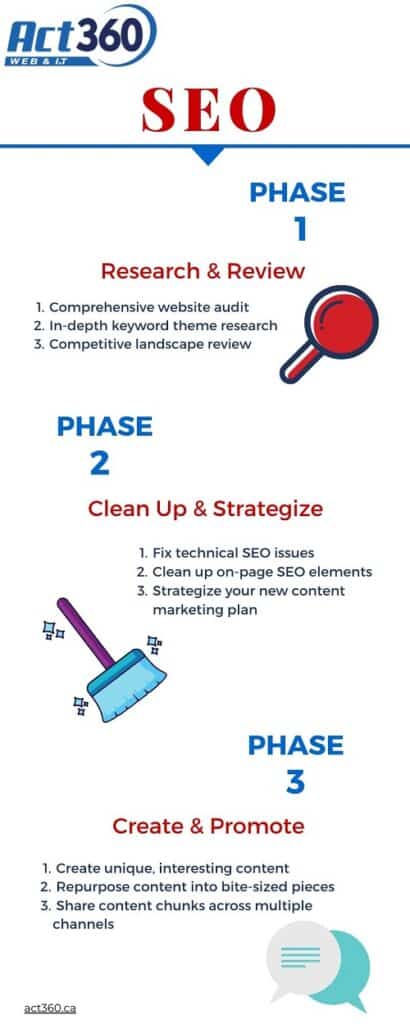 Phase I: Research & Review
Timeframe: 1 month
This is the phase where we learn about your business. We learn about your competitors. We learn about your industry, goals and audience. We learn everything there is to know about you. The only way we can help is if we understand where you are today and where you want to be tomorrow.
During the research phase, we will:
Perform a comprehensive website audit to uncover technical issues holding your sight back from positioning well in search engine results pages (SERPs). Things like 404 errors, broken links and page load speed. We look at schema markup, mobile friendliness and incoming links. And we look at on-page factors such as meta data, content and the over all user experience.
Perform keyword research – not so we can stuff your pages full of words we think Google wants to see, but to get inside the heads of your customers to understand how they're searching for products and services like yours. We look for trends in the market, and we look at user intent. We look at search volume and ranking difficulty (how competitive is a keyword phrase?). The we pull all the information together to map out keyword themes that match the goal of the web page with the user intent behind the keyword theme.
Review competitive landscape – we look at what's happening in your industry. Who are your main competitors? What are they doing right with their SEO, and where are their gaps? How are they marketing themselves in your space? And where are the opportunities to ethically kick 'em to the curb?
Phase II: Clean Up & Strategize
Timeframe: 2 months
Phase two typically takes about 45-60 days (unless you have an ecommerce site of 10,000+ pages, in which case we'd need to map out a long-term plan to coordinate Phase II in tandem with Phase III).
Now that we have all this juicy information about your business, your clients, your competition, you're your goals, we can begin clean-up.
We'll start to fix all those small technical issues and we'll clean up existing web pages, so they're properly optimized to deliver the best user experience, while satisfying Google's needs, too.
In this phase, we:
Map head and torso keyword themes to existing pages
Optimize on-page elements to incorporate keyword variations in power positions
Check internal and external linking
Rewrite and test calls to action
Review customer buy flow experience (ie: do forms work properly, is it easy for me to get the information I want, and did I naturally take the desired action?)
At the same time, our content team will begin strategizing new and interesting ways to drive targeted traffic to your site.
This where many businesses get tripped up. They think SEO is about technical behind-the-scenes stuff – just set it and forget it. Sure, that's part of it, but there's so much more … which brings us into Phase III.
Phase III: Create & Promote Content
Timeframe: 12+ months
This is the ongoing phase. It's the long game. To stay ahead of the competition and dominate the SERPs, you need to continually serve valuable content to your audience. That's the only way to build trust and keep them coming back for more.
Did you know ...
It takes at least 7 interactions to turn a prospect into a customer.
Why? You're asking people to part with their most prized possession – CASH. That takes time.
People buy from people they like. They buy from people they trust. And trust is not built in a day.
Like any other relationship, trust takes time to build. It needs to be nurtured ... slowly.
How do you build trust?
Be there with answers to their questions
Be there will helpful solutions to their problems
Be there with the content they need when they need it
Be there with a friendly smile and open arms
And do it all without asking for the sale
That's how you build trust and stay top of mind. When consumers are ready to open their wallets, you want them to think of you with confidence.
Here's how we do it: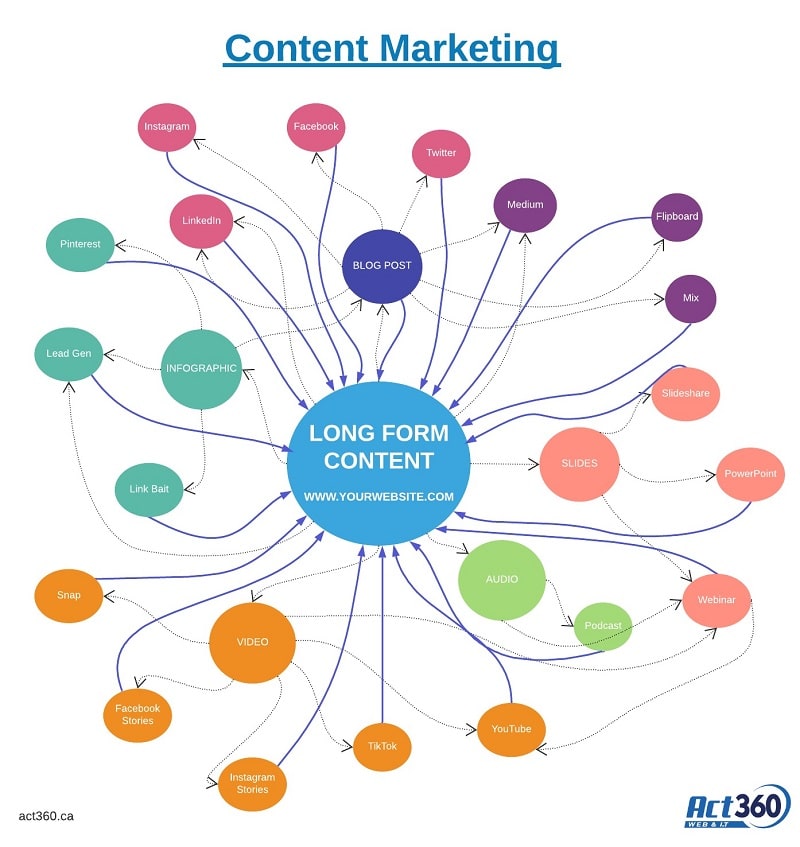 The Content Marketing Lifecycle
Start with a base piece -- maybe a how-to guide, case study or whitepaper.
Next, create PowerPoint slides to showcase the content
Design an infographic with visual representations of the content
Record a video discussing the topic
Transcribe the video into blog post
Promote the blog post on content curation sites
Break out the blog post into small bits of information to share on social media channels
Design "right-sized" images and memes for social media distribution
Transform the blog post into an email marketing offer
... you get the idea.
Content is the Lifeblood of Your Website
Just like your flashlight is useless without batteries, your website is useless without content.
SEO, blog posts, email, social media -- they are the nuts and bolts of a larger digital marketing machine. Each component relies on another to keep it running efficiently.
Once you learn how to repurpose one large piece of content into dozens of smaller pieces of content, you'll quickly realize that content marketing is not so overwhelming.
Still, you have a business to run, and content marketing may not be your forte. That's OK, well all have our own lanes. Focus on what you do best and leave the rest to the experts.
Let's see if our digital marketing pros can help you convert prospects into long-lasting customers.
Book your no-cost, no-obligation consult today. Don't worry, we won't ask you for any money – we just want to find out if we can help.
And if you found this post helpful, we'd be super grateful if you'd like and share it with others.
You've heard it a thousand times – content is king. It's true. Content is everywhere. It's online, in books, and on TV. It's on benches, billboards, and buses. We listen to it, we watch it, we read it.
Sometimes we're actively consuming content and other times it's just seeping into our subconscious as we go about our day.
Content is all around us. It's there to entertain, educate, inform, and keep us up to speed on the latest happenings around the world. It's also there to sell us stuff we need … and stuff we don't.
The question isn't so much, "Should you be investing in content?" The question really is, "Can you afford not to invest in content?"
FACT: Content marketing costs 62% less than traditional marketing and generates about 3x as many leads.
Your competitors are creating content. They're advertising, broadcasting, and printing. They're offering free information and they're selling products to the masses. To your customers.
So, when Joe Blow is ready to buy what you're selling, who will he call? That guy he's heard on the radio, seen on TV, and read about online? That guy who keeps popping up on his Facebook feed with ads and appearing in his inbox with useful tips?
Or will he call you. That guy he's never heard of. Probably won't be you since he doesn't have your number, email, or website address.
That's the thing about content—if you're not putting your brand out there for the world to see, how will anyone know you exist?
What's the ROI of content marketing?
We get it, you're about the bottom line. You need to know what the return on investment will be before opening your wallet. Totally understandable.
The first thing to know about the ROI of content is that it almost always starts out in the red.
There, I said it.
So why the heck are we even entertaining the idea of creating content? Because content is a long game. It takes time to create, design, write, record, develop and publish.
It may be slow starting, but that doesn't matter because in the long run, it out performs by leaps and bounds. Here's proof that content marketing crushes any other digital marketing strategy:
Bottom line
The numbers don't lie. Content marketing gets results. Period.
Content marketing is by far the most powerful marketing strategy known to the digital world today.
So, let me ask you this … can you afford NOT to invest in content?
Ready to find out how much money you could be leaving on the table? Give us a buzz to see how affordable it truly is to implement a strong content marketing strategy.
Here's the deal: people need products and services. Even during a pandemic. In some cases, especially during a pandemic.
And guess what? Search engine optimization (SEO) and search engine marketing (SEM) are still the best ways to reach customers.
As long as you're paying attention to user behaviour, that is.
The way your customers looked for you yesterday is different from how they're searching for you today. And it will be different again tomorrow.
According to Tony Wright of Search Engine Journal, "There will be business winners and losers in this new global normal. And many of the winners will invest heavily in search engine marketing."
What Happens to Website Visibility When You Stop SEO?
SEO is a marathon, not a sprint. When you call a halt to your SEO efforts, search visibility drops, and it's difficult to recover.
When you stop optimizing your website for search, you run the risk of:
Losing rankings for target keywords
Losing organic traffic from those keywords
Losing valuable domain authority
Decreasing the chance to score quality back links
Losing visibility for "near me" searches (to your Google My Business listings)
Slowly losing your audience as your website goes dormant
Falling behind your competitors who have continued (and even stepped-up) their SEO game
SEO is like a muscle: easier to maintain than to gain.
When you have solid rankings and visibility in organic search, we strongly recommend doing what you can to, at the very least, maintain it. Once the SEO ball starts rolling downhill, it's very hard to stop the momentum.
Survival of the Fittest Marketing Strategy
Darwin's adaptation theory (aka: survival theory) is an organism's ability to adapt to changes in its environment and adjust accordingly over time.
Businesses that adapt their search marketing efforts today will be primed to lead tomorrow … when things normalize. And things will normalize.
Here are some ways ACT360 is helping to keep you on track during these difficult times:
Scale back if you must, but don't STOP. We'd hate to see you undo all the hard you've put in up to this point. Ask us about payment options and potential discounts. We're committed to helping you through these tough times.
Let us review some of your other marketing efforts (free of charge). A second set of eyes may be all it takes to uncover creative, new ways to save and/or reallocate money.
Don't hesitate to ask questions and share ideas. We're working closely with our clients to customize marketing strategies on the fly, so let's keep the lines of communication open.
SEO is a Long Game
It is SO important that businesses stay the course right now. The fact is some companies won't be the threat they once were before the pandemic. They'll make mistakes, they'll mismanage money and resources.
Some of them will fall by the wayside, giving your business the opportunity to climb to the top. Believe it or not, this crisis is levelling the playing field, giving small- and medium-sized businesses the chance to rise.
The key is to take a moment to evaluate your current marketing strategy and adjust to ensure you're keeping in line with your customers' needs. Deliver what they need, when and where they need it, and you'll come through these challenging times just fine.
Ready to reevaluate your marketing strategy? We may be practicing social distancing, but we're here for you. Talk to us today.
It's been a year like no other in history. The world came to a screaching halt as a deadly virus spread city to city, country to country at an alarming rate. A global pandemic changed the world we once knew. It shut down entire school systems. Businesses were mandated to close. Millions of jobs were lost as social distancing forced us into isolation.
But we are nothing if not resilient.
As we locked our front doors and sought refuge in the security of our own homes, we did what we could to remain connected – we turned to the Internet.
Retail e-commerce sales reach all-time highs
As storefront retail sales plummeted, e-commerce retail sales nearly doubled from February to May.
According to a Stats Canada survey:
E-commerce saw a 63.8% monthly increase in April while in-store sales dropped 25.3%
The COVID-19 impact peaked in April. Retail e-commerce sales spiked from 3.8% in April 2019 to a record high of 11.4% in April 2020
Shopify reported a 62% increase in new stores created from March 13, 2020 to April 24, 2020, compared with the previous six weeks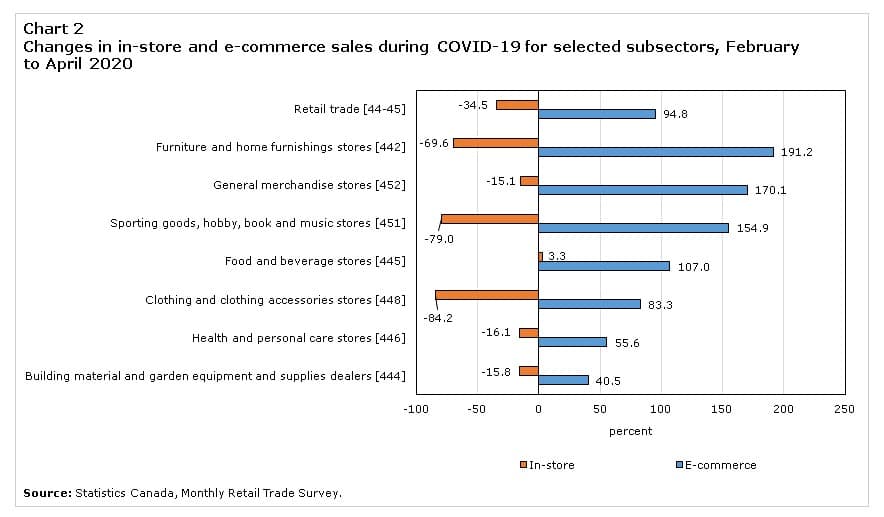 As the retail landscape continues to evolve, we'll see a growing influx of mobile web users.
Is your website mobile ready? Google has a free mobile-friendly test you can use to check it out.
Did you know …
Google eliminates your site from mobile SERPs if it is not mobile friendly
71% of mobile searchers expect mobile site pages to load as fast or faster than desktop (Hubspot)
Google reports that 40% of mobile consumers turned to a competitor's website after an unsatisfactory mobile experience
Two out of three shoppers prefer accessing a mobile website over a mobile application (Kissmetrics)
One third of all e-commerce purchases were made on a smartphone during the holiday shopping season (Techcrunch)
How prepared is your business for this new norm? If you're just starting out with mobile SEO, don't sweat it, you're not alone. Use the following checklist to quickly get on board the mobile-friendly train.
But first, some basics.
What is Mobile SEO?
Just like traditional Search Engine Optimization (SEO), Mobile SEO is the process of a) making your website user-friendly (working properly and looking great) on mobile devices, and b) optimizing your site so it shows up in mobile SERPs for relevant keyword queries.
According to Google's Webmaster Central Blog, "By March 2021, all sites should be indexed mobile-first," which means that, for the first time ever, Google will use the quality of the mobile version of your site to determine rankings – not the desktop version.
Google has already started making the switch to mobile-first indexing, so you don't want to wait.
5 ways to ensure your website is mobile-ready
Responsive Design
A responsive site automatically changes its appearance to fit any screen size on any device. Building a flexible layout is fairly quick and simple from a development standpoint, but there are other options available.
It requires a little extra dev time, but some SMBs choose to use dynamic serving, which allows for a unique user experience for each device. Others choose to build an entire mobile app, which adds another layer of functionality that just isn't possible on a mobile-friendly website.
We're not opposed to building mobile apps—in fact, we think it's a great way to build your brand. However, we do recommend building a responsive website to go along with the app … especially with Google's mobile-first ranking quickly approaching.
Structured Data
These tiny bits of code help Google understand the content on your site. The easier it is for Google to understand what your website is about, the easier it is for them to rank your site properly for relevant user queries (aka: keywords).
According to Google's Webmaster Central Blog, if you use structured data on the desktop versions of your site, you should use the same structured data on your mobile site.
"This is important because with mobile-first indexing, we'll only use the mobile version of your page for indexing, and will otherwise miss the structured data."
Page Speed
Everyone is in a hurry. A slow-loading site is a poor-ranking site in Google SERPs. Worse, if your site doesn't load quickly, users will move on to another site. Likely your competitor.
To improve page load speed, reduce file size with GZIP, optimize CSS and minimize the number of redirects. If you're unsure about your page load speed, use Google's free Pagespeed Insights.
Neil Patel also has an in-depth article about how to get your page load score to 100%.
No Flash
Most mobile devices don't support Flash. That's because it eats up batter power, it doesn't work on Apple devices, and many users block Flash websites because of significant security concerns.

Instead, opt for JavaScript, CSS and simple image files.
User Experience
We saved the best for last. Providing a stellar user experience (UX) is critical when it comes to how your site will rank in the SERPs.
Think about how people are using mobile devices – thumbs clicking on small screens. It's far more difficult to navigate a touch screen mobile device than it is to use a mouse on a full-sized screen.
Use large buttons and lots of white space for easy navigation. Use larger font sizes (14px for mobile; 11 points for iOS) for simple readability. Here's a helpful article from Google: What Makes a Good Mobile Site.
Need help putting these 5 tips into practice? Talk to us—we'll make sure your website is mobile friendly and ready to rock well in advance of Google's March 2021 mobile-first deadline.